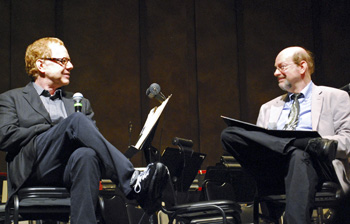 Situs Film Music Society melaporkan konser Danny Elfman oleh American Youth Symphony, berikut kutipannya:
The symposium began with Newman conducting five movements of Elfman's score for Errol Morris' Standard Operating Procedure, the acclaimed documentary on abuses at the infamous Abu Ghraib prison in Iraq.

Following the performance, Elfman sat in conversation with journalist Jon Burlingame about his life and composing career. Elfman proved a lively raconteur, regaling the audience with stories about London musicians giving conductor Shirley Walker a chauvinistic attitude on the Batman recording sessions; the Tchaikovsky influences on his writing for Edward Scissorhands and how often his fairy-tale, choir-and-celeste ideas have been "borrowed" since; how he left one highly commercial project in order to score the post-Civil War romance Sommersby motivated by the film's unexpected ending where the hero is hanged; and Morris' unusual ideas about scoring Standard Operating Procedure.

Elfman also attended the evening concert and took four curtain calls with Newman and the orchestra at the conclusion, which were met with wild cheers and standing ovations from the packed house at UCLA.
Baca lengkapnya di

sini

.