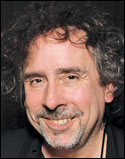 Pada tanggal 28 Mei, Variety menurunkan artikel mengenai Tim Burton exhibition di Los Angeles, berikut kutipannya:

The Burton exhibition, originally organized by New York's MoMA in New York, will continue on to the Cinematheque Francaise in Paris after the L.A. run ends on Halloween.

Danny Elfman, a frequent Burton collaborator on pics including "Pee-wee's Big Adventure" and "The Nightmare Before Christmas," composed music specifically for the exhibit to help enhance the "Burtonesque" environment.

Baca lengkapnya di sini.