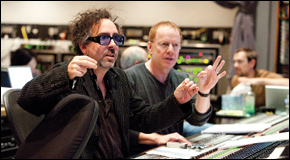 Pada tanggal 15 Desember, Jon Burlingame di situs Variety menurunkan tulisan mengenai pembuatan musik Alice in Wonderland dan The Next Three Days oleh Danny Elfman. Berikut kutipannya:

Scoring "The Next Three Days" with director Paul Haggis "was really quite opposite," Elfman says. The Russell Crowe action film had a limited music budget, "which I turned into something positive," he adds. "I was happy to have a smaller ensemble."

He added piano and strings to his own studio-created percussion and other sounds and was surprised to discover that Haggis preferred the smaller string grouping (13 or 14 players) for its more intimate sound. "It was a dream," he says.

Baca lengkapnya di sini. Baca juga mengenai Academy Awards Music Branch di sini dan mengenai lagu-lagu yang bisa masuk nominasi untuk best song di sini.