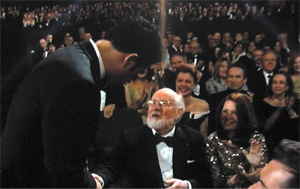 Old news yeah.. Situs The Film Music Society melaporkan segala hal yang terkait dengan musik film dari acara pengumuman pemenang Oscar yang lalu. Berikut kutipannya:

Composer Marc Shaiman, host Billy Crystal's longtime musical collaborator, penned the music and lyrics for Crystal's funny opening Oscar medley. Danny Elfman was announced as having composed the music for the Cirque du Soleil segment. And David Newman's music for Hoffa was heard during the segment recapping the Governors' Awards to James Earl Jones, Oprah Winfrey and makeup artist Dick Smith.

Baca lengkapnya di sini.