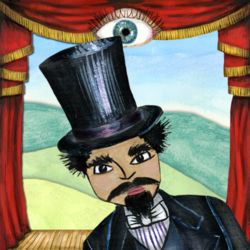 A first for Elfman, musik untuk...
smartphone
game app! Berikut kutipannya:
Puppet Masterpiece Theater: The Circus game app captivates players with story and illustrations by Alexandra Conn and music by Danny Elfman. Based on a story written by a child, this circus app includes nine magical games, lions, seals, snakes, talking birds, a painted horse, and a villainous ring leader. Available now from Organa on iTunes for iPads.
Puppet Masterpiece Theater: The Circus has nine games woven into a classic story of intrigue, adventure and circus delights. These interactive games promise to educate, entertain and engage the kids as they travel with a group of friends on a mission to get their beloved horse back – they get more than they bargained for when the circus comes to town. This captivating story is set to a spectacular soundtrack by Danny Elfman, Grammy award winner, known for his TV and film scores including "The Simpsons", "Nightmare Before Christmas" and most recently "Frankenweenie".
"Alex Conn's genius design and Danny Elfman's music is AMAZING for the young and not-so-young." says Dorit Avganim the Theater Producer and Arts Educator.
Baca lengkapnya di

sini

.