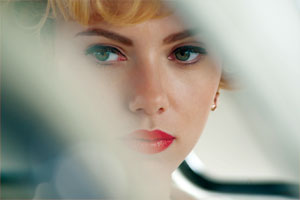 Variety mem-publish tulisan Jon Burlingame mengenai Danny Elfman, berikut ini kutipannya:
Danny Elfman is finishing his busiest year ever, with no fewer than six films in the marketplace, including two for longtime collaborator Tim Burton ("Dark Shadows," "Frankenweenie") and "Men in Black 3" for Barry Sonnenfeld.
Three more have arrived in time for awards season: "Hitchcock," Sacha Gervasi's offbeat making-of "Psycho" drama; "Silver Linings Playbook" for director David O. Russell; and "Promised Land" for another regular collaborator, Gus Van Sant (whose "Milk" and "Good Will Hunting" earned Elfman score Oscar noms).
As for "Promised Land," Elfman's initial thought was "Midwest, a simple story, country folks, I'll use fiddles and guitars." But Van Sant's attitude about music, Elfman says, is always, "let's try something completely different." He saw all the marimbas in Elfman's studio and so marimba wound up as a key musical component.
As it turns out, strings, marimba, guitar (and sometimes human voice) predominate.
"Gus is fearless," Elfman says. "He just likes to try things, and that makes it fun for me. What is or isn't right can be a subjective thing. With 'Promised Land,' it was intimate and small -- a chamber orchestra."
Baca lengkapnya di

sini

.